Frequently Asked Questions
Q: Is there really a Susan Perry?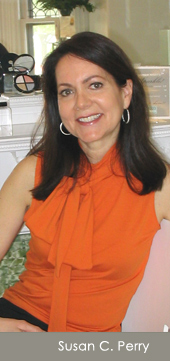 A: Yes! Susan has been providing beauty and wellness solutions in her own Spa since 1982. She has devoted her life to discovering and developing the most effective, safe and harmonious products and treatments for skin of all types and ages.
Q: Why do you sell other lines of products?
A: The Susan Perry line of products is a complete system centering around the care of skin. Susan also offers other product lines in her Spa which complement and enhance the effects of her own signature system, or address other areas of beauty and wellness. All products lines must meet her high standards of effectiveness, safety and humane production. The Zents line, MDSolarSciences sunscreens, Anesi Beaute, and Cellex-C products are all used and enjoyed by our clients.

Q: What are your shipping costs?
A: We keep it simple. On orders totalling up to $35, Priority USPS shipping is only $4.95 - over $35, it's free! You can view your current estimate of shipping costs by viewing your cart.
Q: Where are you located, and what is your contact info?
A: Our bricks-and-mortar Spa is located at:

Susan Perry Skin Care Day Spa
98 Court Street
Plymouth, MA
02360

508.746.0220

susanperryskincare.com
OPEN

Mon & Tue 11am - 7pm | Wed & Thur 9am - 9pm | Fri 10am - 6pm
Sat 10am - 4pm | Sun by special appointment
Our full product line is available here for testing and purchase. We welcome walk-ins, and are always happy to offer personalized help during our normal business hours.
If you are visiting New England, we are approximately 40 minutes south of Boston. Take Route 3 south to exit 6, eastbound. Drive just a few minutes east on Samoset Street. Court Street (Route 3A) crosses Samoset at the first large intersection. Turn right, and you will immediately see Susan Perry Skin Care on your right. Parking available on street, or in St. Peter's lot just beyond.
Our Skin Care Mission
Our online shop offers the signature Susan Perry line of Skin Care and Beauty Products used professionally in our day spa, as well as other select products we have found which meet our high standards.
Susan Perry Skin Care products for men and women of all ages are made from only the highest quality natural ingredients. They are produced under the strictest quality control possible and are not tested on animals. These products are hypo-allergenic, non-comedogenic and contain no synthetic fragrances.
In our signature skin care and cosmetic line, you will find a complete and innovative selection of products ready to treat even the most challenging of skin conditions. Our skin care specialists have worked with these products and helped them evolve into the line we have today. If you are unsure what products to use, please visit the "Our Products" link above, or call us during business hours at 508.746.0220. We'll be available to personally help you select products designed for your specific skin care needs. We are happy to help!